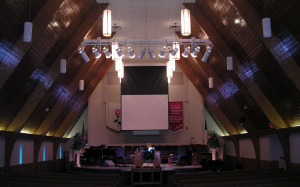 We know the importance of spreading the message and reaching your audience. When that audience is right in front of you in a large room, you know it is important that everyone can see and hear you clearly.
Let us help you reach your audience by designing and installing a professional whole house sound system as well as video projectors. Our professional team of designers excel in finding solutions for your church or temple in Murfreesboro.
While it is important that you can be seen and heard, we ensure that your new installation is designed to complement your building's architecture, by, designing a system to blend in with the surroundings.